5 Reasons Why Startups in Iraq Fail
16 December 2021
1615

10 minutes read
The assumption is that startups in Iraq fail because of unviable business models, or ideas which do not address the right problem. In many cases, these are true. However, many Iraqi founders have ideas in the right industry and are addressing the right market, but still do not prevail.
The way we see it, many of the reasons for failure will need an effort from everyone to solve: government agencies, incubators, think-tanks, NGOs, media outlets and entrepreneurs themselves. Rather than pointing fingers, we hope that this piece stimulates conversations and initiatives to truly work towards addressing why startups in Iraq fail:
1. The Hype is All About the Ideation Stage
Ideas are great. Ideas bring about startups. Good ideas should be celebrated and funded. We agree and that's why we're always ensuring we cover the work of incubator programs and pre-seed and seed stage funding sources in the country. Our team has often spotted awesome ideas coming out of incubator programs and winning pitch competitions. Unfortunately, six months to a year later, when we look for updates, many winning ideas have discontinued or show no recent activity on their social media or website platforms.
The core problem is that although support for entrepreneurship in Iraq is great and growing, this support is very much focused on new ideas at the pre-launch or early launch stages. More entrepreneurship and funding programs are needed to help founders get beyond the ideation stage, which is when many of the challenges arise.
Additional guidance is needed to help founders use funding correctly, scale successfully and manage a team and customer groups. Without this, we end up with a vicious cycle. Entrepreneurs are happy about winning initial support but have no communities or network that can help them beyond that. The idea becomes a reality for a few months as founders 'win' pitch competitions and spend prize money, but need mentorship and training to scale beyond the early stages and become sustainable.
2. The Hype and Grind isn't Reflected in the Culture
We've talked about startup culture before and we'll say this again now. In Iraqi society in particular, most youth are given solicited and unsolicited advice from older generations on their careers. This entitlement starts with parents and extends to the fifth neighbour's sister-in-law. Without a culture where entrepreneurs are perceived as important and valuable assets, individuals cannot thrive and persevere to ensure their startups succeed. This means normalising self-employment, leaving a traditional job to start a venture, and trying again after the first or second venture has failed. Others should realise that entrepreneurial success is not only winning competitions or making headlines, it goes beyond that.
3. Founders Aren't Ready to Get Their Hands Dirty…Very Dirty
Entrepreneurship is far from glorious. The Silicon Valley stereotype of every entrepreneur looking like Mark Zuckerberg or Elon Musk is downright false. Many founders go into creating a venture with the illusion that being a business owner involves having 10 personal assistants massaging their feet and doing anything that is labelled admin. The truth is, most entrepreneurship training providers sell a romanticised vision of running a business and it needs to stop. Promises of funding and training are attracting promising and not-so-promising founders. Selection processes need to be stringent and find the right personality types for entrepreneurship. It isn't for everyone, and that's ok.
Running a startup involves a long time of having to do everything on your own or with a very small team. This is part of the game. It is what entrepreneurship involves for everyone. It does not mean you're failing or doing it wrong. This is why entrepreneurs work late hours and go through several fundraising rounds to maintain their success, and that is why hiring and growing a team should be done tactfully.
4. Founders Aren't Ready to go Up and Down, Back and Forth…
As much as that sounds like a dance instruction, we're still talking about startups. Thanks to Hollywood movies, white male entrepreneurs making the headlines and writing "HoW To bE SuCeSSFuL" books, little is known about the nonlinear nature of entrepreneurship. Losing after winning is normal. Going backwards sometimes after progress is normal. Having to change a product or service offering after you've spent months on it is… yep you guessed it, normal. Yes. Go outside. Scream your head off. Smash a few plates. Then start again. Running a startup is trial and error and needs patience.
5. Pivoting isn't Part of Plan B, C and D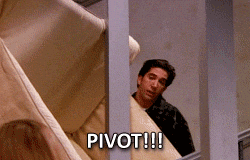 You may feel like a loser when seeing a growing number of startups announcing fundraising rounds and a line of enthusiastic, smiling angel investors and venture capitalists. What you don't see is that many startups need to change (sometimes a bit, sometimes a lot) their original ideas to secure that investment, keep investors on their side and make that news headline. Investment or not, pivoting should be seen as a natural possibility in every startup strategy. Organisations shows to be resilient during the pandemic were those that were ready to change routes quickly, even if this meant changing core existing assumptions about customers and products. When done right, pivoting means strengthening your strategy, it doesn't undermine it.
Final Thoughts
It is crucial that we create an ecosystem which encourages founders to thrive at each stage of the business building process. Ideation stage initiatives must focus on setting expectations and instilling the right mindset early on among budding entrepreneurs. Accelerator initiatives, on the other hand, are needed moreso to support established startups struggling to scale.
With that said, there's more to think about when it comes to how Iraqi founders approach business. A global approach to business isn't common, which means most founders do not think about their company beyond the Iraqi market. How can we encourage this thinking so that Iraqi entrepreneurs create companies that will expand to the SWANA region and beyond?